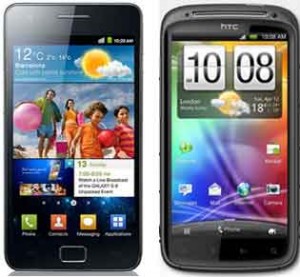 HTC prefaced their new Android Smartphone HTC Sensation in India, a week after the launch of Samsung Galaxy S2. Now the question is-which one you like better. At a glance, both look the same; "1.2GHZ dual core processor, 4.3 inch screen, Android 2.3 and a price around 29. 5K INR ($660)". But in our side-by-side comparison the Galaxy S2 outstripped the Sensation, although the later comes with an improved Sense user interface.
More HTC Sensation Photos
Software: HTC Sensation and Samsung Galaxy S2 uses the Android 2.3 with their widely received skins TouchWiz 4.0 and Sense UI 3.0. Samsung Touch Wiz 4.0 is nowhere near the Sense in terms of usability- but this is a personal choice. In Touchwiz, you can set up different home screens, which can be personalized with widgets and apps. Sense UI lists cool animations and effects, which are exceptionally creative and of high quality. It is heard that the Sensation is shipping with a locked Bootloader. That means it will not be possible for you to root Sensation and install some third party ROMs and apps.
More Galaxy S2 photos
Hardware: The "heir"of the Galaxy S arrives with an upgraded AMOLED display that measures 4.3 inch in size. Pixel density of the Galaxy S2 display is less than the HTC Sensation, but has higher contrast levels. Therefore, it appears that Galaxy S2 has a better screen than the HTC Sensation in terms of the clarity, fidelity and the colors it output. The Sensation follows the 16:9 aspect ratio on screen design that makes it compatible with international movie standards. External casing of the HTC sensation is made with a combination of plastic and metallic parts- which brings it to be thicker and heavier than the Galaxy S2.
Both use dual core mobile CPUs that are based on the ARM Cortex architecture. Galaxy S2 has a slight advantage here as its processor Samsung Exynos is a better implementation of Cortex-A9. Galaxy S2 has 1 GB of RAM and is more that of HTC Sensation.
(side-by-side comparison of specifications and price)
Price: As of June 23 2015, the price of Samsung Galaxy S2 in India is 29500 ($558) and that of HTC Sensation is 29600 ($660) INR- including taxes and other charges.
As we said before there is not much difference in the price of Samsung Galaxy S2 and HTC Sensation. If the display quality, battery life, storage and speed are your concern you can go for Samsung Galaxy S2. But if you love the awesome HTC Sense UI, there is no look back, go for the Sensation.