Popular mobile service provider of middle-east, Etisalat will soon launch services in India, under brand name Cheers Mobile. Etisalat Cheers mobile is the 14th mobile operator in India after Tata Docomo, Uninorand Videocon.  We  earlier reported  their association with  Amir Khan for 35 cores worth ambassadorship. Cheers mobile has pan India license for GSM services. Therefore, they will launch services in all telecom circles in India. The testing phase of Cheers GSM mobile network is live in several states. We are not sure about the official launch date of the service. However, it seems that everything is on the fast track for deployment before the end of April. Etisalat Cheers mobile will also participate in upcoming 3G auctions planned to be held on April 9. Cheers mobile will announce the best tariff rates including per second plans. Few of them are now shown at their official website.
Etisalat Cheers mobile service in India:
The entry of Cheers mobile will further make the competition tight in the Indian telecom sector.  The Expected rollout of mobile number portability and 3G will help new entrants to gain market share, if they introduce innovative tariff plans. Cheers mobile will have the best mobile calling rates in India, from what we have noticed from theur official website.  Currently, Uninor offers prepaid GSM service at 29 paisa per minute. However, with Uninor we need to charge with some addon packs to get into special services. Cheers mobile will offer prepaid GSM service at 10 paisa to the home network calls, and 30 paisa per minutes to all other networks without any packs. SMS and other rates are as shown below.
Cheers mobile GSM tariff plan :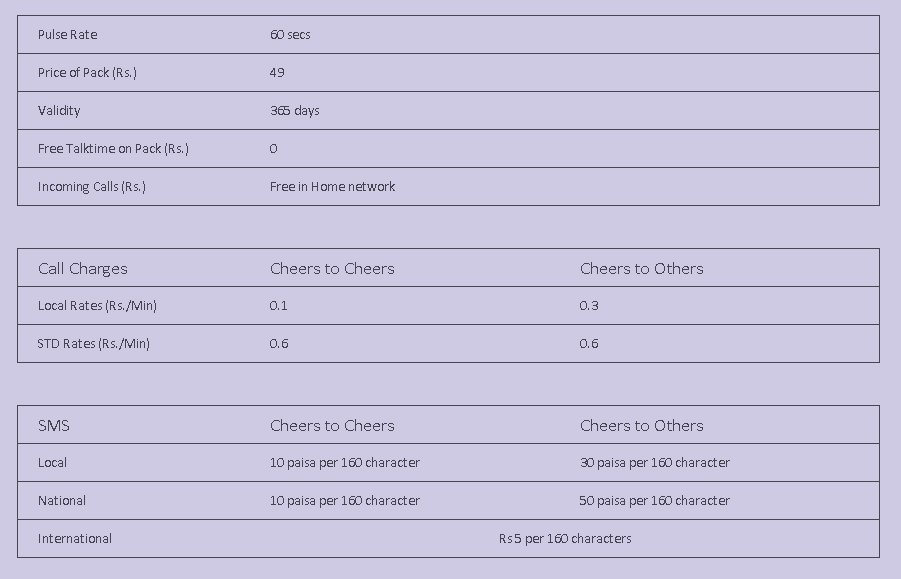 The very basic recharge of Cheers mobile will be be available at 49 RS/- with a validity of 365 days.  This recharge has zero talk time value and a pulse rate of 60 seconds.   They will also announced top-up recharge coupons ranging from RS 10(9.07) to 100(90.67) INR. These top-up recharge coupons provides better talk time than that of many other service providers in India.
Roaming is pre-activated on each Cheers mobile SIM card. Users don't need to pay any special charges for roaming on home network.   Cheers mobile ISD rates are available here.  Details of postpaid connection, GPRS and other value added service will be available soon.
Cheers mobile customer care number is 121, and their email service can reached at care@cheersmobile.in.
Etisalat is one of the largest telecom companies of middle east, Asia and Africa providing 3G and broadband services. We expects the same quality of  service from Cheers mobile Ltd. India.
We will update this page with the availability of more  information on Cheers mobile service India launch date, tariff plans and other offers.