With the introduction of Android, Apple iOS and Windows Phone smartphone operating systems nowadays it is possible to do anything and everything in mobile phones, the same things for which once we used desktops and an internet connection. Internet enabled mobile phones unfolded a new ray of possibilities, and mobile banking is one of them. Leading private banks in India, like HDFC, ICICI and Citi have launched dedicated iPhone and Android apps for their customers. With these mobile apps, customers can access the banking facilities on the go and make use of the internet baking facilities in a better way.
ICICI iMobile mobile banking application: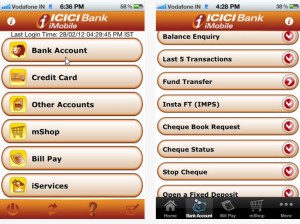 ICICI bank is the pioneers of mobile banking in India, and  their mobile application is named as iMobile. A direct link download iMobile app will be sent you the mobile number upon messaging IMOBILE to 5676766 from any GPRS enabled handset. They have iPhone, Android and Java compatible iMobile versions, and you will get the correct one once you visit the download link. ICICI's iPhone app is the most comprehensive and secure mobile banking software available in India. You can do IMPS, book tickets, pay bills, insurance, transfer funds instantly and effectively using iMobile apps. After installation, your handset will be asked to set a password like PIN number that has to be verified over the mobile number registered with the bank. The process is simple and self-explanatory. Thereafter, this PIN number will be required to open and operate iMobile.
Download ICICI iMobile app for iPhone here, Android here.
HDFC iPhone and mobile banking: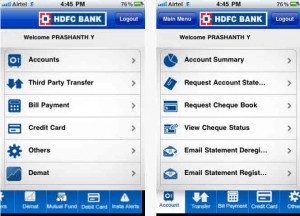 Although HDFC is well known for quick adoption of latest technologies in the banking sector, it took some time for them to release a  native mobile app for iPhone but still the Andoird version is pending.  HDFC mobile banking software is called Mobanking, and it is not that broad and secure as  iMobile. You can login to the application using the Internet banking user ID and password.  HDFC bank mobile app for the iPhone now supports fund transfer,  viewing account statement, changing ATM PIN  number, updating contacts, paying bills, knowing credit card details, and some other features available in their internet banking service. Those who don't have an iPhone can visit m.hdfcbank.com on their mobile web browser for a similar experience.
Download HDFC iPhone app here, Android app here.
Citi Bank India Mobile app for iPhone and Android.
Citi bank is a global financial firm having a number of offices in India  mainly located  in cities. Citi Bank accounts are usually used by NRIs and corporate, and their presence is not much known to the normal public. The global version of the City Mobile app is available in iTunes store from 2010 and recently in 2011, they've launched an  India version of their Android and iPhone apps. Like other mobile banking applications, Citi  Mobile app lets you  transfer funds using IMPS/NEFT, locate nearest ATMs, settle bills, recharge mobile number, etc.
Download City Mobile app for Android here, iPhone here.
Those who are using another mobile OS's can find the specific versions compatible with you handset  by messaging MBANK followed by last four digits of their Citi Bank Debit/Credit card number to 52484.