Savings account owners of all banks in India are required to link Aadhaar Card details to operate their accounts beyond December 2017. Thankfully, all the big banks have multiple options to make the transition easy for users. Out of all, SMS based registration of Aadhaar number is the easiest. Didn't link your Aadhaar card  number to the bank account as of now? Here are the SMS formats for major banks in India.
Aadhaar link SMS number and format for SBI, HDFC & ICICI Banks
Be it ICICI, HDFC or SBI all the top banks are constantly intimating customers through various channels, about the Aadhar requirement to keep their accounts active. The government may extend the dates for linking Aadhaar until the verdict of the SC comes out. However, our advice is not wait if you already have an Aadhaar number.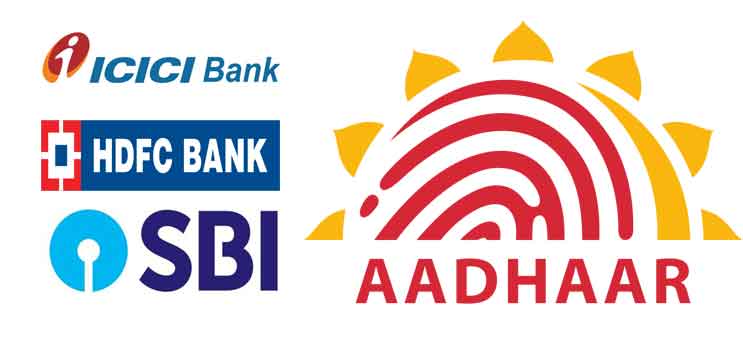 SBI Aadhaar Card linking through SMS
A large sector of the people availing government subsidies holds an SBI account. Hence, SBI is a front-runner of the Aaadhar seeding ever since the Government's decision to implement it in the banking sector. So how do you update your Aadhaar number to SBI savings account?
UID  AadhaarNumber  AccountNumber   to 567676
Thanks to the Indian government digital initiatives. You don't need to visit an SBI branch to link your Aaadhaar. Just send an SMS in the format as you see above.
Link Aadhaar via SMS in HDFC Bank
HDFC is one of the first banks in India to introduce the internet and SMS based linking of Aadhaar details. Currently, HDFC Bank online registration of Aadhaar number through netbanking and mobile banking is disabled. If you're an HDFC Bank customer with a mobile number registered for SMS banking, you may use the following format to link Aadhaar card through a single message.

It may take at least 3 days to validate and update Aadhar number to your account. It is also possible to link Aadhaar through HDFC Bank Mobile app.
Update Aadhaar through SMS for ICICI Bank ICICI Bank is also
ICICI Bank now requires all customer to provide an Aaadhar number and PAN Card to open a Savings/Salary/Current account. They have also begun informing the existing customers to submit Aaadhar details soon to avoid possible blacking of transactions in 2018. ICICI Bank users may simply send the following SMS to add Aadhar details to their account.
Aadhar  AadharNumber  Last_6digits_of_ICICIBank_SavingsaccountNumber to 9215676766
Although SMS is the easiest and probably the best way to link Aaadhar to number bank account, please keep in mind that in rare cases it may fail to work. The disadvantage of SMS to link Aaadhaar number is that you won't get a reference number, with which you could track the status of your request. Use the other ways like ATM or netbanking to update your Aadhaar if you don't see any changes in the account in one week.