Few months back we covered mobile banking applications provided by Indian banks like ICICI, HDFC  and Citi. Mobile banking applications further simplify the customer needs by taking everything on their palm. They can pay bills, insurance premium, mobile bills, make transactions, get the balance info or mini statement. Private Banks are these days much faster than centralized banks in rolling out next generation banking facilities. ICICI, HDFC, Citi and few other banks introduced internet and mobile banking for the first time. The initiative form SBI to launch mobile banking application and related service would help millions of Indians, who rely on the largest Indian bank for their daily financial requirements. This mobile banking facility from SBI is known as SBI freedom. The basic requirement to download the application is a Java enabled handset and GPRS connection.
SBI freedom mobile application screenshots: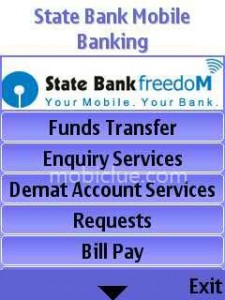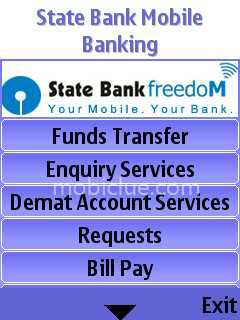 So far, the list of supported devices includes Palm, Sony Ericsson, Nokia, Windows mobile, Samsung, LG and others. You can download the generic mobile application if your handset is not in the list.
Features of SBI Freedom mobile banking:
Mobile fund transfer using NEFT.
Mobile bill and insurance premium payment.
Get statement and balance in SBI account.
Request cheque book and other services.
Central Government has implemented certain rules regarding mobile banking services. These rules are also applicable for SBI freedom mobile banking service. That is you can make only 5000/10000 max for bill/merchant payments respectively. SBI mobile banking application and the activation of services are free. But there is a charge associated with SMS and GPRS usage. Contact your customer care for GPRS plans.
SBI Freedom mobile banking registration:
SBI Freedom mobile banking registration is a two-step process.
Step1:
First the customer needs to send an SMS in specific format to 567676 and then reach ATM or SBI branch for one time verification.
SBI Freedom SMS format: "MBSREG Nokia N97" to 567676
Change mobile phone brand and model as per requirements.
Customer will then receive a message with download link to SBI mobile application, user name and MPIN that is needed to sign into the application.
They can also Download SBI mobile application to PC from this link. Use PC suite or compatible application to transfer the application to mobile device and install.
After installation sign into SBI mobile banking service with the default MPIN received. It should be changed to new 6 digits MPIN using the settings or using the prompt when the application is launched for the first time.
Those who don't have Java supported mobile device can also use SBI freedom mobile service. For this they need visit SBI mobile WAP site and sign in using MPIN.
Step2: Reach SBI bank branch to ATM center for mobile number verification.
Reach SBI bank branch and sign up the appropriate form. Or reach the nearest SBI ATM and enter debit card. Go to services mobile banking > register and then enter the mobile number to complete verification process.