Last week we reviewed Y browser , free file browser for Nokia . Active file is another free file browser/explorer for Symbain Nokia S60 V3 and S60 V2 devices . Unlike other file explorer softwares ,Active file has some other functions like screenshot capture ,SMS backup , system monitor etc. Download Active file free File browser for Nokia .
ActiveFile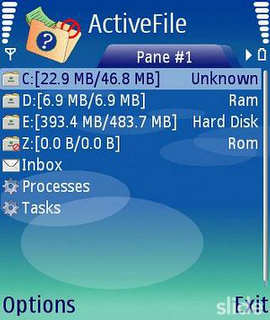 ActiveFile features :
Browse through internal files/disks of Symbain Nokia and SonyEricsson phones.
Take screenshots and save them as PNG,JPEG images .
Collect various System hardware informations .
Cut,copy,delete,edit and modify files.
Send files over Bluetooth ,WiFi and infrared .
Create fake SMS messages .
Backup contacts and SMS .
View running internal process and kill the required ones .
And many more ..
ActiveFile  file explorer supported phones:
Nokia 3250, 5500 Sport, 6290, 6650 T-Mobile, N71, N73, N75, N80, N91, N92, N93, N93i, E50, E51, E60, E61, E61i, E62, E65, E70
Download Activefile for S60V3 Symbain .
Nokia 5700, 6110 Navigator, 6120 Classic, 6121 Classic, 6124 Classic, N77, N78, N81, N82, N92, N95, E90
Download Activefile free File explorer for Nokia .
Nokia 6210 Navigator, 6220 Classic, N78, N79, N85, N96
Download Activefile free File browser for Nokia .