Adobe Flash technology is used to play interactive and animated internet web pages. Anything built on flash needs flash player on the clients mobile/PC to get them played. Adobe flash lite is a mobile version Adobe flash player. Many Nokia Nseries and Eseries devices ship with Adobe Flash Lite pre-installed.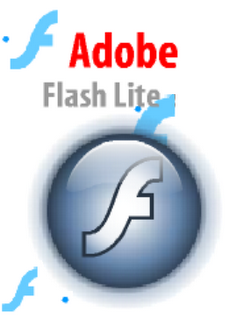 Adobe started shipping Flash lite 3 players with all supported mobile phones released after January 2009. Adobe Flash lite 3 is a standalone SWF (Shock Wave Flash player. It can play SWF files on mobile phones and web pages along with SWF applications and themes. Adobe Flash lite 3 doesn't support FLV (Flash Video Files) that is used in Youtube or Metacafe. You can use Mobile Youtube players like Mobitubia and emTube for this.
(Flash lite 3 has a browser plug-in in Windows mobile. So it can play FLV files in Windows mobile devices )
Download Adobe Flash lite 3.1 for S60 here. (Nokia, Sony Ericsson, LG, Samsung, Motorola handsets with Symbian OS)
Some applications, web pages and games also use Adobe Flash technology. Having the Flash Lite player let you install and run all these stuff. Latest Android handsets support Adobe Flash 10 mobile application. It is better than Flash Lite and make the device support native YouTube and Flash video playback.