Adobe's PDF has become a widely used document format in the world. PDF or portable document format was originally designed for the PC, Mac and other desktop operating system. Nowadays, mobile phones have become equally powerful as computers, and they support nearly every task we could do in desktop systems. Mobile devices are now shipped with inbuilt or 3rd party software application support for reading PDF attachments. So if you are looking for one, here is a list of PDF reader applications for different mobile operating systems.
Symbian: QuickOffice, the premium Mobile Office software developer has a mobile Adobe PDF reader application called Adobe Reader LE 2.5. This application is not free but unlike other freeware it provides the best PDF reading experience in small screens. You can get more details about this application at the Ovi store here.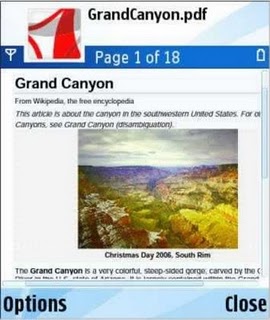 Android: Adobe itself has released an official PDF reader application for Android devices. You can download this app from the Android market here.  It supports multi-touch gesture like pinch to zoom and and slide to flip pages. Adobe Reader for Android comes with a unique sharing feature that let you use PDF documents with email programs and others.
Apple iPhone: The iTunes store includes thousands of freeware and paid PDF reader apps. Out of many apps, the one we liked is Aji reader- available here. Earlier it was selling at $.99 but now it's free. With Ajii reader, you can view PDF file as it is smoothly on iPhone and iPod Touch screen. The app let you download PDF documents from the web URLs or transfer it from Mac or PC using the desktop support software available at their website.
Are you looking for a PDF reader, which suits a specific phone or any other mobile OS? Share that in the comments- we might be able to help you.