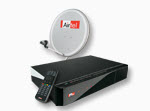 Airtel Digital TV is in Indian DTH market from the last few months. Airtel's entry was a little bit late, but they managed to gain good market share in a very short span of time. Their STB uses the future ready DVB-S2 technology. In order to provide better services and facilities to their DTH users, Airtel launched Airtel digital TV Recorder. The new Airtel digital TV Recorder can record live TV shows in DVD quality and store them to inbuilt 160GB hard disk. Users can schedule video recording, pause, rewind and fast forward the parts of their favorite TV shows that are recorded. Moreover, Airtel digital TV Recorder offers HDMI port that can be used to connect the device to external High Definition Televisions. All Airtel Digital TV DTH customers can upgrade to the latest device for at a very nominal price.
Airtel Digital TV price review, recharge coupons, and packages:
Airtel Digital TV  connection is now available across the country at starting price of 140 INR with free installation.  Airtel Digital TV offers 7 channel packages ranging from  RS 14pm to RS 34pm. The basic package with 10 Channels and 2 interactive services is available free for a limited period. They provide all packages at lower price for those who recharge the service online. The clarity of channels of course depends on TV or computer hardware. However, the DVB-S2 technology promises the best sound and video quality. Airtel Digital TV has a pretty large dish when compared with other DTH providers in India. Thus they provide better capture area for satellite signals, and uninterrupted service during climate changes. The Airtel Digital TV STB has3 RCA outputs, one USB and TV out. You can connect the normal Airtel STB output to an internal TV Tuner card or external USB tuner cad to record live DTH channels.
Record Indian DTH channel programs using Airtel digital TV Recorder:
The Airtel Digital TV recorder was introduced on April 2010. The new STB has an inbuilt in option to record DTH programs live or on a pre-defined schedule. It has 160GB internal storage space that can keep up to 100 hours of TV channel shows. It also supports record commands from mobile phones if the STB is kept ON. Users can pause or rewind live TV using Airtel Digital TV recorder. The device also has an HDMI output that can be used to connect it to new age televisions and cinema displays.
Airtel Digital TV Recorder price and tariff plans and offers:
All existing users of Airtel Digital TV can upgrade to Airtel Digital TV recorder at Rs. 5490 with a RS 500 cash back to their digital TV account. All existing packages and offers will get transferred to the new account. New users can also purchase Airtel Digital TV Recorder Rs. 5490 with one month free subscription.