Apple today announced the upcoming availability of their web tablet called the iPad. Apple iPad is one of the most anticipated announcement of this year. Like any other web tablet, the Apple iPad more focus on internet and multimedia. We can call iPad as a bigger version of Apple iPhone and iPod. The device includes an enhanced version of Apple iPhone OS. That is you can run almost all iPhone applications in iPad with minor upgrades. Apple also announced that they will be releasing a software development kit for developing applications for iPad. An emulator for running iPad applications will be available at Apple.com form today. Apple iPad is pretty large device with capacitive multi-touch screen of 24.6cm measured diagonally . The device specification includes a 1GHZ processor with graphics processor. It is available in 16-32-64 GB storage based on price and configuration.
Apple iPad photos:
Apple iPad is complete internet oriented device that can run on WiFi and 3G. You can watch movies, hear music, browser photos and run games if a connection is not available. The real power of iPad comes into play when its connected to internet.  There is email and social networking, streaming, navigation using Google maps plus unlimited possibilities from millions of applications designed for iPhone OS. There is a new app called iBook that can be used to download and read ebooks like in Amazon Kindle. Multi-touch and accelerometer sensor enables the smooth operation of device features. iPad offers battery backup of around 10 hours. Interface of the iPad software interface looks like a combination of that in iPhone and Mac OS. Interface is customizable as per user requirements.
Apple iPad complete specification:
Apple iPad weighs just 680 grams and its.5 inch thin.
There is Bluetooth with A2DP.
Runs iPhone OS 3.2.
Speaker and microphone included.
iPad includes accessories like standard Apple keyboard, cover for protection and dock.
iPad is manufactured using Eco friendly practices and non harmful components.
Apple has its own A4 1GHZ chip inside the iPad.
LED backlight display.
iPad supports high definition video playback upto 720p.
Opens almost all video, audio files and documents.
3.5mm headphone jack.
Digital Compass.
Standard USB.
Black and white color combination.
Its very disappointing fact that Apple iPad doesn't support multi-tasking and Flash on web pages. Also there's no front camera and USB connectivity.
Apple iPad price in India:
This time apple surprised everyone with the pricing. Seems that they stopped making devices just only for the fan boys. The basic model of Apple iPad will be available in US and European countries for a price of 499$. The device will get released  in US by the end of march 2010. iPad users in US will get unlimited data plan at just 30USD per month.This price is really worth for this tablet considering its specifications. iPad would be launched in India and other Asian countries by June-September of 2010. When converting to Indian money, the price of the base model Apple iPad is just around 23000 INR.
Apple iPad price comparison of WiFi and 3G models.
Apple iPad 64GB WiFi price: 48,500.00
iPad 64GB 3G : 63000.00
Apple iPad 32GB WiFi price: 42,499.00
iPad 3G 32GB : 570000.00
Apple iPad 16Gb WiFi price : 37,500.00
iPad 3G 16GB: 48000.00
All prices are from Ebay India including shipping charges. Please note that iPad is not yet launched in India. You can wait few for more months to get at lower rates.
Updated:
Apple officially launched iPad WiFi and 3G in India. The prices for WiFi and 3G+WiFi models will be as given below.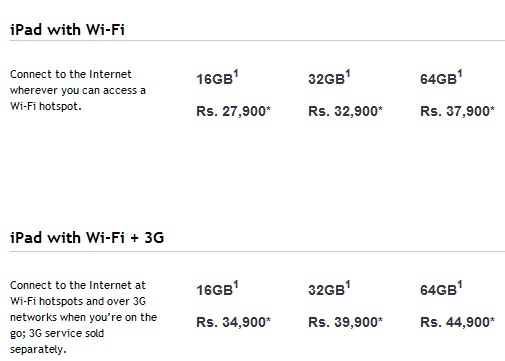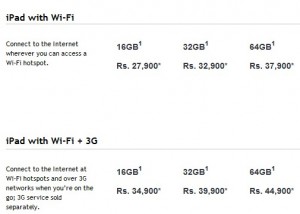 BSNL has started providing Micro SIM cards compatible with Apple iPad. They will launch special iPad tariff plans on tomorrow, 28-01-2010.