Apple today launched iPhone 4, the fourth generation of the iPhone that uses recently announced iPhone OS 4.0. Earlier this year, a gadget blog called Gizmodo leaked iPhone 4 prototype, and they published the specifications of the iPhone 4. Today's announcement has almost the same thing, but the name of the device is now confirmed as iPhone 4. The major features of the iPhone 4 include a new hardware design, 5MP main camera with HD video recording, highly improved display, 1GHZ apple A4 chip, new applications, improved battery life, gyroscope, and front facing camera for video calls. The device will be shipped with iPhone OS 4.0 (iOS 4.0) pre-installed.
iPhone 4.0 photos:
The new iPhone 4 hardware specifications:
Apple iPhone 4 has the same 3.5 inch display as found in older models iPhone 3GS and iPhone 3G.  The display from the front side is covered by glass that is around 30 times stronger than  plastic. The new iPhone 4 has a better resolution 960×640 pixels and a contrast ratio 800:1 The OLED display used iPhone 4 uses Retina technology to improve the pixel depth to 336 pixels per inch. Thus it provides 4X quality of iPhone 3G S for viewing pictures and videos. The back side of iPhone 4 is also covered by glass and all other sides have stainless steel finish. The new iPhone 4 is one of the thinnest phones on earth. The device measures only 9. 3mm, is 24% smaller than iPhone 3G S. Apple iPhone 4 also ports a gyroscope component, which in addition with an accelerometer aids new applications and games requiring this facility.
The redesigned  button shaped volume controls sit in the left side of iPhone 34, along with a mute button.  There is a 3.5 mm headphone jack, extra  noise cancellation mic, and a sleep-wake button at the top side.  The bottom side of iPhone 4 includes normal Apple USB and dock connectors.   The improved camera is yet another new feature in iPhone 4. Among which, the front facing camera will be used for video calls ( Apple calls its Face time). Unfortunately, FaceTime supports video calls through WiFi only. The main 5Mp camera with LED flash in iPhone 4 supports 5X digital zoom and HD video recording at 720p.  Apple will use 1GHZ A4 chip for all iPhone 4 models, which could boost the browsing, multimedia speeds and overall over user experience of the phone.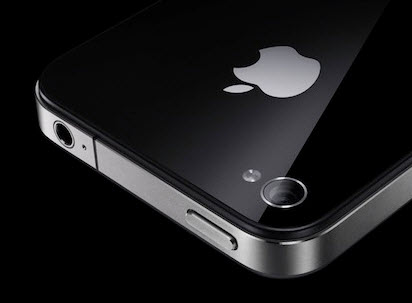 The most important thing Apple cared while development of iPhone 4 is its battery life.  The new iPhone supports  6 hours 3G browsing, 7 hours 3G calling, 10 hours WI-Fi browsing, videos  and up-top 40 hours of music.  Other features of iPhone 4 include Quad band 3G at 7.2 Mbps, Bluetooth with A2DP, GPS, WiFi, etc. Available in two colors, white and black.
Apple iPhone 4 software features.
Apple announced new iMovie application for editing videos from their device, which can be  purchased separately from app store 5$.  Zynga, NetFlix and Activision announced Farmville, Netflix, Guitar Hero applications for iOS. Other features of  the iPhone OS 4.0 like folder view, multi-tasking, iBook support all are supported by iPhone 4. The new OS will ad iAd support for all iOS 4.0 applications.
Full iPhone 4 features and more photos here.
Apple iPhone 4 price and launch date.
Airtel and Aircel launched iPhone 4 in India under an attractive tariff scheme.  The pricing is designed in such a way that you will get your invested money back in 2 years of contract. The return is implemented as the savings on postpaid plans. You can also buy iPhone 4 without a contract- the prices are given below.
iPhone 4 16GB price in India- 34500.  (USA- $649)
iPhone 4 32GB price in India- 40900. (USA-$749)
You can now buy iPhone and iPhone 4S in India. For updated Apple iPhone price in 2012, visit India price Blog.
We recommend you to get factory unlocked iPhone 4 from eBay or other reliable online shopping portals. They sells it at a lower price point and you can use it on any network you want.  Want to compare iPhone 4 with other mobile devices? Check out our innovative mobile comparison application here.