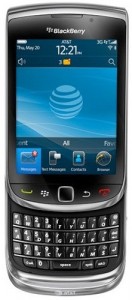 Research IN Motion (RIM) today announced BlackBerry Torch 9800, a new smartphone for AT&T customers in USA. BlackBerry Torch is the first BlackBerry mobile device to feature the all new BlackBerry OS 6.0 update. It is also the first BB touch smartphone with a sliding  QWERTY keypad. BlackBerry Torch 9800 got its name from the web-kit based Torch browser,  that RIM acquired from a start-up, Torch Mobile. BlackBerry Torch is a 3G device with 5MP camera and all the goodness of BlackBerry OS 6.
BlackBerry Torch 9800 photos: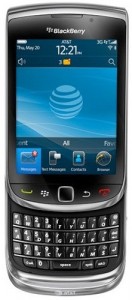 BlackBerry Torch 9800 specification and review:
BlackBerry Torch ships with BlackBerry OS 6.0. Naturally, the new home screen, web browser, social feed, gallery application with Wi-Fi sync, universal search all get into the default features of the device. BlackBerry Torch 9800 has a 3.2 inch touch screen with 480 x 360 pixels resolution. Typical Blackberry track-pad is placed under this screen. There is a five mega pixel camera with auto focus, LED flash, 11 scene modes and VGA video recording. BlackBerry Torch incorporates 512 MB of phone memory and 4GB inbuilt storage, which is expendable up-to 32GB using MicroSD card (4GB card included). Other features of BlackBerry Torch 9800 include, built in GPS with BlackBerry maps, 1300 mAhr removable battery, Bluetooth, Email and instant messaging, BlackBerry enterprise services, YouTube app, music player, 3.5 mm headphone jack and Wi-Fi.
BlackBerry Torch 9800 price and plan:
AT&T and RIM announced the price, and data plan of BlackBerry Torch 9800. The device will be available from August 12, at a price of $199 with two year contract.  BlackBerry Torch supports a wide variety of networks across the globe. So we hope that there will be a non-carrier version of the device for India and other countries, in near future.