F-secure released the new version of its security application for Windows mobile, Symbian, Android and other handsets. The F-secure mobile security 6 is a premier mobile antivirus software, which includes components like Firewall, Anti-Theft and web security. Nowadays, mobile phones have become more than just a communication device. People now make bank transactions, send email and other confidential messages using mobile phones. The F-secure mobile security 6, similar to Kaspersky Mobile security 9 and ESET mobile antivirus offers comprehensive protection against all threats affecting mobile platforms.
F-Secure mobile security 6: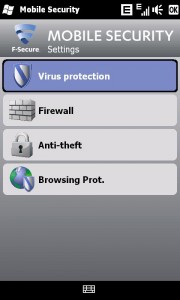 F-Secure mobile security 6 features
Mobile Anti-Virus: The advancement of technology has attracted malware developers to focus more on mobile platforms.  We earlier discussed about a few mobile spy software, that could be used to track mobile devices. Mobile spy software can record the real-time conversations, trace the location, copy the  email and SMS  sent and received on a victim's mobile phone to a remote location. Also there are viruses and Trojan horses that would steal credit card and banking passwords without user consent.
Mobile Firewall: Block unwanted incoming and outgoing network traffic.
Mobile web security: Prevent access to infected websites in internet explorer mobile.
Mobile Anti-Theft: F-secure mobile security 6 includes an innovative anti-theft software. It includes features like remote wipe, phone location tracker, remote lock and SIM change SMS report.
Download F-secure mobile security 6 here.
F-secure mobile security subscription code: F-secure mobile security 6 for Android, Windows mobile and Nokia is available under subscription mode. F-secure also provide 7 day trial version of mobile security 6 – free for all smartphones. Users can purchase additional subscription codes using credit card or Paypal. All subscription codes are activated online, so there  is no use for pirated license keys.