Gone are days when we used to watch TV channels at our home on a television screen. Now TV channels are relayed over the internet, and we can watch them live streaming on official and third party websites. Movies, IPL cricket matches, World cup, ESPN and many other TV programs are telecasted in this way. Some developers included these web links in their mobile applications, and they released apps that could be used to view internet TV on mobile phones. With the introduction of 3G and other high speed technologies the mobile TV industry is booming at a faster rate never than before.
Mobile internet TV applications mainly support iOS (iPhone, iPod Touch, iPad), Android, Nokia-Symbian and Java handsets.
Given below is a mobile internet TV application for Nokia handsets.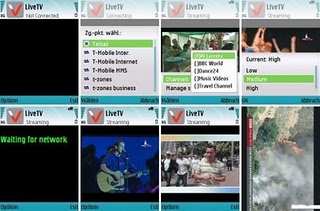 This is a freeware mobile TV application. It has 5 channels in the list; Al Jazeera, BBC World, Dance24, Music Videos and Travel Channel. After download you have to activate the service by sending an international SMS. The application will send this automatically so you have wait for some time before it completes the process.
Download mobile internet TV here. (Nokia-Symbian).
SPB Mobile TV
Another good multi-platform mobile TV application is the SPB TV developed by SPB software. It comes with around 140 channels and supports Windows Mobile, Symbian, Bada, Android, BlackBerry, HP Palm web OS, Maemo and Symbian operating systems. You can download it free here.
TUV player for Android and iOS:
If you are looking for a reliable Mobile TV application, which support your local channels, here is the one for you. TUV player is not free, but I can guarantee you that it will include at least one channel in your local language. The TUV iOS app lists around 1000 channels in different categories. It may take some time to load the streaming after selecting a TV channel. Wait for a few minutes it will start playing it without any issues. You can download TUV mobile TV from iTunes store or Android market.
The main issue with mobile internet TV streaming is the data charges. It consumes a lot of 3G/2G bandwidth. So it is always better to use an unlimited plan with such applications.