Few days back we reviewed an unofficial Facebook application for Windows mobile and Symbian mobile phones  Now Windows mobile team came up with an official  Facebook application for all Windows mobile OS falling under version 6. The new application has some extra features like video -photo upload , file sharing and many more . Download Facebook for Windows mobile .
Facebook Windows mobile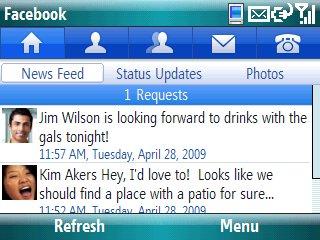 Official Facebook client for Windows mobile features :
Upload videos directly from internet enabled Windows mobile.
Share and tag photos .
Change profile photos.
All other normal Facebook operations like status updates , wall posts etc. are also available .
Facebook for Windows mobile supported phones (partial list) :
Acer:  N10, N30, N35, N50
Asus: MyPal A632, MyPal A636, MyPal A639, MyPal A716, P525
Cingular: 2125, 8125, 8500, 8525, BlackJack
Dell: Axim X3 (300 MHz), Axim X3 (400 MHz), Axim X30, Axim X30 Wireless, Axim X3i, Axim X50, HTC: Touch Diamond, Touch, Touch Dual, Touch HD, Touch Pro, TyTN II S730, P3350, MTeoR, P3300, P3600, P4350, S310, S620, S650, S710, TyTN, X7500, P3400, P3450
Lenovo: ET960, ET980, i921
Motorola: i930, Q, Q Plus, TETRA PDA
Orange: SPV C100, SPV C500, SPV C550, SPV C600, SPV C700, SPV e100, SPV E200, SPV M2000, SPV M2500, SPV M3000, SPV M3100, SPV M500, SPV M5000, SPV M600, SPV M700
Palm: Treo 500v, Treo 700w, Treo 700wx, Treo 750v
Samsung: SGH i780, SGH i900, SGH i710, i300, i320, i320N, IP830-w, SCH-i730, SGH i600, SGH i617, SGH-i607
Siemens: SX66
Sprint: PPC-6601, PPC-6700
T-Mobile: MDA AMEO, MDA Compact, MDA Compact II, MDA Compact III, MDA Dash, MDA II, MDA Mail, MDA Pro, MDA Vario, MDA Vario II, SDA, SDA (US name), SDA II, SDA Music
i-mate: JAM, Jamin, JAQ, JAQ3, JASJAM, JASJAR, K-JAM, KJAR, New JAM, PDA-N, PDA2, PDA2k, PDA2k EVDO, PDAL, Phone Edition, Smartphone, Smartphone2, SP Jas, SP3, SP3i, SP5, SP5m, SP6, SPL
Sony-Ericsson: X1
Download Official Facebook application for Windows mobile .