ActiveLock is a free mobile application to lock files and folders in a Symbian phone .We have already covered free file hide/ file lock applications for Symbian and Java phones and this would add another to this list . ActiveLock is developed by Alietan the same man behind ActiveFile and Active SMS lock .ActiveLock can protect almost all applications in Symbian mobile devices including gallery photos ,videos and SMS . Download ActiveLock
ActiveLock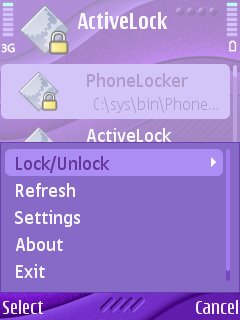 After installation ,choose the file or application to be locked and select lock to enter a password and secure it .Similar procedure can be used to unlock any application .
Download
Nokia 3250, 5500 Sport, 6290, 6650 T-Mobile, N71, N73, N75, N80, N91, N92, N93, N93i, E50, E51, E60, E61, E61i, E62, E65, E70
Download
Nokia 5700, 6110 Navigator, 6120 Classic, 6121 Classic, 6124 Classic, N77, N78, N81, N82, N92, N95, E90
Download ActiveLock, free galley and SMS lock for mobile .
Nokia 6210 Navigator, 6220 Classic, N78, N79, N85, N96
ActiveLock is an unsigned application. Use this method to sign mobile softwares .