London based INQ manufactures mobile devices focused more on social media connectivity. They currently have three mobile phones, INQ Chat 3G, INQ mini 3G and INQ¹. The INQ¹ is worlds first dedicated social phone, and is the winner of global mobile awards 2009. All INQ phones come with Twitter, Facebook, Orkut, chat and email integration. INQ Chat 3G has a QWERTY keypad and 3MP camera. The INQ mini 3G comes candybar form factor and a 2MP camera. Both have very colorful UI design and external appearance that would attract young students and professionals. Moreover, the price is very affordable for this configuration. So if you are a social media addict from India, there is one more reason to celebrate. INQ and Aircel launched  INQ chat 3G and Mini 3G phones in India. They have announced special introductory offers for both phones with free internet plans.

INQ chat 3G  and INQ mini 3G photos :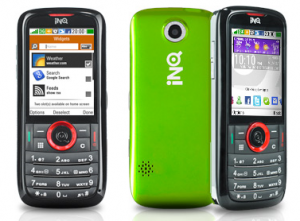 INQ chat 3G  and INQ mini 3G review:

INQ Chat 3G comes with QWERTY keypad.  So here its comfortable to type emails, messages and update status messages on Twitter, Orkut, Facebook social profiles. The home screen of the device can be customized with widgets and applications. INQ Chat 3G has a slide switcher at the bottom of the screen for movement through different applications. The switcher can be controlled by a dedicated key on the right side or using  the joystick. Images taken with the 3Mp camera can be uploaded directly to email and social networking sites. Contact application of the phone lists updates from social profiles of corresponding friends and relatives. There is also an inbuilt GPS receiver to support Map application and for location updates.  INQ Chat 3G and mini 3G  are based on Brew OS 4.0 with application support for Java platform.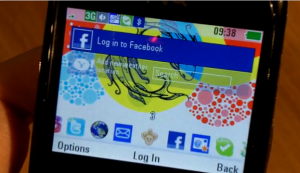 The interface of INQ mini 3G is somewhat similar to INQ chat 3G.  However, mini 3G doesn't have QWERTY keypad and thereby its smaller in size. Furthermore, camera is downgraded from 3MP to 2MP. Therefore, the price of INQ mini is comparatively lower than Chat 3G.
INQ Chat 3G and INQ mini 3G comes with replaceable background covers in 7 different colors, like in Samsung Corby.  As the name indicates, both are high speed 3G devices that can be even connected to desktops as a modem. Newer versions of applications used in the phone can be updated over the air when they are available.  INQ Chat and mini 3G package includes software with the means to sync videos, photos and music from Windows or Mac media players.
INQ Chat 3G specifications :
Chat 3G can push updates  from Twitter, Facebook, Orkut and other social media sites.
Chat with Windows messenger, Skype and others.
Send and receive email using Hotmail, Gmail, and Yahoo applications.
2.4 inch QVGA TFT screen, 3.2MP camera with autofocus, GPS, 3G modem, QWERTY keypad, switcher for moving through applications, 120 MB memory (up to 8GB), Brew OS, video and audio player.
INQ mini 3G specifications:
INQ mini 3G includes almost all applications available with Chat 3G.
No QWERTY keypad, 2.1 inch QVGA TFT screen, 2 MP camera, no GPS receiver, 100 MB memory( up to 8GB expandable), Brew OS, support for Java applications.
Price and plans in India:
INQ Chat 3G price :  7600 INR
INQ mini 3G price:  5400 INR
INQ Chat 3G and INQ mini 3G are exclusively available through Aircel stores in India. Aircel users on INQ plan can recharge with Rs.251 to get 3 months internet browsing (2GB pm) and 150 free Aircel-to-Aircel calls.