It's more than 6 months since Apple released iPhone 3G S in US. The  iPhone 3G S is an enhanced version of Apple iPhone 3G with few software and hardware improvements. Apple iPhone 3G S is 2 times faster than its predecessor, iPhone 3G. The device comes with intrinsic support for the recently released  iPhone OS 3.0 upgrade. Latest model is also available in 32GB storage option. Apart from this, iPhone 3GS  includes few new applications like voice control, voice memo, video camera app, digital compass, etc.  The camera has seen an upgrade to 3MP autofocus from 2MP fixed focus one in iPhone 3G.   We won't recommend iPhone 3G S to iPhone 3G users with OS 3.0. However, it's a great upgrade for first generation iPhone users. Apple iPhone 3G S is now exclusively available in US with AT&T, at a maximum retail price of $199 and $299 respectively for 16GB and 32GB models, upon two year contract.Apple iPhone 3G S photos:
iPhone 3G S review and specification.
Apple iPhone 3G S has a brand new 600MHZ ARM Cortex A8 processor with PowerVR SGX535 graphic unit. It gives superior performance and graphics processing when compared with old ARM 11 412 MHz in iPhone 3G. The device RAM was also upgraded from 256 MB from 128MB that was available in the last model. Apple iPhone 3G S is now 2 times faster than iPhone 3G on opening web pages, 3D game processing and response to application, etc.
Apple iPhone 3G S ships with iPhone OS 3.0. The new OS has support for copy-paste, MMS, 3G Tethering, system wide landscape keyboard, universal search, Bluetooth with A2DP, and improvements in existing applications. The spotlight search in iPhone 3G S can be accessed on flipping screen to the left side. It a universal search feature, that let users to search through contacts, email headers, iPod music collection and other parts of the Phone.
Improved camera in iPhone 3G S is 3.15 MP with autofocus, and it can record videos at 30fps using dedicated application.
The voice control application in iPhone 3G S can be used to give voice initiated command to the phone. It one of the features that is found only on iPhone 3G S. Users can press firmly on the home button to launch this application, and give voice commands to open web pages, play music, call contacts, etc.
The new iPhone 3G S has improved battery life on WiFi and 3G connections. The device supports 3G tethering, which depend on network support.
Overall the new iPhone 3G S is not a must upgrade for iPhone 3G users. However, the device is a good buy for first time purchasers and iPhone 2G users who are still using OS 2.0.
Apple iPhone 3G price in India:
It appears that Apple has no plans to launch  iPhone 3G S in many countries including India. The heavy price tag and non availability of contract based plans made it difficult to get iPhone's in these countries. Apple and service providers couldn't achieve the sales target they expected with iPhone 3G.  So don't expect an official release of iPhone 3G S in India, any time soon.
Updated on March 2010:  Apple released iPhone 3G S in India through Vodafone and Airtel:
Oh yes!  Finally, Apple is dumping all unsold iPhone 3G S phones in India, before the launch of the next generation iPhone.  The device is now available on loot 😀 at selected Airtel and Vodafone across the country. Both carriers  announced pathetic GPRS-EDGE plans with their version iPhone 3GS.
iPhone 3G S Airtel price and plans:
Apple iPhone 3G 8 GB  Airtel price: Rs 29,500 INR ( only black)
Apple iPhone 3GS 16 GB  price: Rs 35,500 INR
Apple iPhone 3GS 32 GB  price: Rs 41,500 INR
Airtel offers free 500MB data transfer every month, for a maximum period of 12 months from date on which iPhone 3G S plan is activated. Post usage will be charged at 30p/50KB.
Vodafone iPhone 3G S price and plans in India:
Vodafone also gives iPhone 3G S at same price of Airtel. However, here it will cost more for data usage. Following are the data plans shown at Vodafone India website.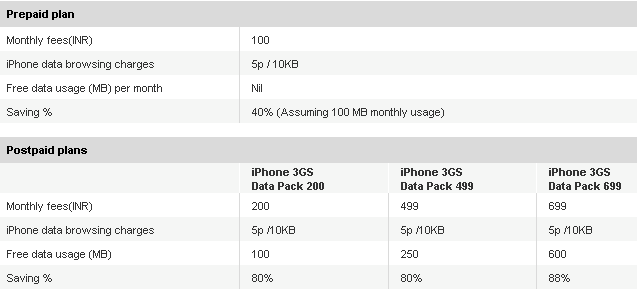 It is expected that iPhone 3G S would get the new iPhone OS 4.0 update for free.  So if you don't want  hardware upgrades  like camera, screen size-resolution, processor speed, etc., go get one iPhone 3G S. It a good phone for the first time buyer.