Finally, a working all in one solution to jailbreak iPhone 4, 3GS, iPhone 3G, iPod Touch and iPad has arrived. Jailbreakme 2.0, the new jailbreak tool released by Comex can be used to jailbreak all most all iOS 4.0 devices without any hassle. The jailbreakme 2.0 for iPhone 4, 3GS and 3G is a userland jailbreak. That means here the iOS jailbreak is done online, and the user doesn't need to download and install any software to their computer. As we all know, jailbreak, unlock and rooting is now legalized in USA. Therefore with Jailbreakme it is possible to get Apple blocked features in iPhone, iPod or iPad and install unapproved apps using the Cydia installer.

Jailbreakme 2.0 for iPhone 4, 3GS, 3G, iPod touch and iPad.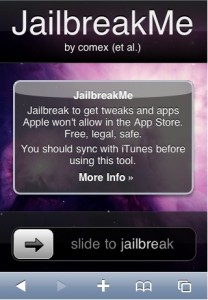 How to jailbreak iPhone 4, 3G, 3G , iPod on iOS 4.0 or iPad with jailbreakme 2.0:
Jailbreakme works with all idevices. However, iPhone users should activate their device before proceeding to the jailbreak. The first step is to download the latest version of iTunes.  After this, sync your iPod, iPhone and iPad with iTunes and backup all the data available. Open Safari web browser and go to this link or this. It will load a page something like as shown above. Now move over the slide to jailbreak button and proceed to jailbreak process. The Cydia installer will be added to the home screen of the device after completion of the installation. Sometimes it will show a blank purple screen. It indicates that the server is on over load. Please wait a few hours to get into your slot.
How to restore iPhone or iPod after jailbreakme 2.0 jailbreak:
Its very simple to restore iPhone or iPod the old iOS version after jailbreaking it with jailbreakme 2.0. Just download iOS 4.0 or 4.0.1 and use the installation instructions to complete the process.