Entry level touch screen phones are getting really popular in India. LG started this trend by launching Cookie in early 2009.  Cookie phone received huge response from public, and it crossed more than 1 million in sales. Samsung followed LG and launched Star and Corby series. The Samsung Corby series  surpassed LG cookie and other touch screen phones in recent months. The main attraction of Corby is its low price, better specifications and youthful design. LG can't sit back and watch Samsung stealing their market share. So now they are ready for another competition with a new version of Cookie touch screen phone. This phone called LG Cookie PEP, is also known as LG POP in several other countries. LG promises the price of LG Cookie PEP to be competitive and affordable. The device comes with social networking  and instant messaging that would attract youngsters. LG has launched media campaign with John Abraham, Genelia D'souza and Abhay Deol to promote the new LG Cookie PEP.
LG Cookie PEP: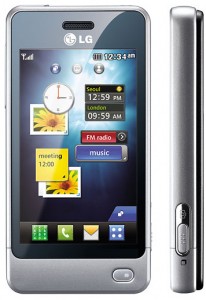 LG Cookie PEP review:
The external design of the new LG Cookie PEP is very impressive. It comes stylish silver and back color outfits and sleek finish. LG Cookie PEP doesn't have physical keypad. So most part of the front side of the phone includes its 3 inch, 256K resistive touch screen. There is a button below the screen that give quick access to home screen, or to make or cut phone calls. Home screen of new LG Cookie PEP is customizable as the original one. Users can set different panels and customize them with widgets. The panels in LG Cookie PEP can be changed by sliding on the home screen. There is an application called Live Square that can be used to add favorite contact to phone screen with cool avatars. LG cookie PEP has  3 dedicated applications for accessing social networking sites like Twitter, Facebook and MySpace. As an India specific model , PEP also includes applications like NewsHunt, NDTC active, Just cricket etc.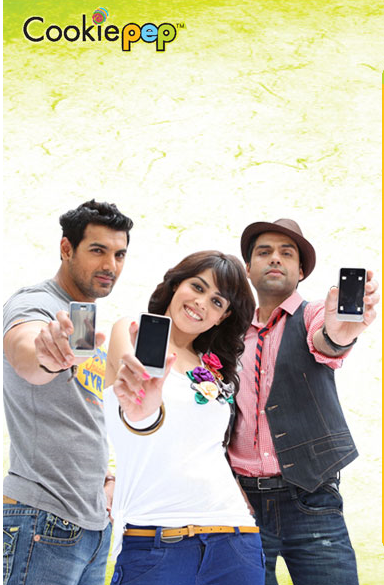 LG Cookies PEP comes with a stranded 3 MP camera with fixed focus and no flash. The video and photo quality is just average. LG PEP has standard LG music player. The sound quality is good. However the sound is little bit sharp at higher levels. LG Cookie doesn't have 3G and WLAN. So the browsing is not much faster on complex pages. Using Opera mini would be better choice if you need to load page little bit faster.
Overall the new LG Cookie PEP is a stylish and affordable handset choice for people looking for entry level touch screen phone.
LG Cookie PEP specifications :
LG Cookie PEP is a GSM handset supporting quad-band GSM networks.
It includes speakerphone and standard micro USB port for connectivity. Unfortunately PEP doesn't have a 3.5 mm headphone jack. So you will not be able to connect it to external speakers and head phones of your choice.
Internal memory 42MB , expandable up to 8GB using memory card.  2GB card included.
LG Cookie PEP comes with 900mAh battery, that will last for 2 days on normal usage.
Bluetooth with A2DP, EDGE, GPRS, optional solar panel, FM radio with RDS, accelerometer for display,  document reader applications are among other notable specifications.
LG Cookie PEP price in India:
LG Cookie PEP is special name for LG GD510 POP available in several other countries. The latest price of LG Cookie PEP in India is RS 7799 excluding taxes and other charges. Price may be different in different states.  Please subscribe to our newsletter to get up to date information on price updates of LG Cookies PEP and new LG mobiles in India.