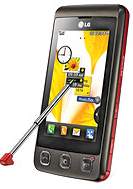 Cookie is an affordable touch screen lunched by LG, in last year. Currently there are three LG Cookie models namely KP500, KP501 and KP502. Among which KP501 and KP502 were released this year January and June respectively. The main specifications of LG Cookie KP500 is; 3.0 inch wide TFT resistive 256K touch screen with new Flash based UI, on screen keyboard, accelerometer sensor and handwriting recognition. We recently covered the launch of Samsung Star in India, which was originally released to compete with LG Cookie. As per latest studies LG sells a phone in Cookie series every 20 seconds. Samsung is probably targeting the entry-level touch screen segment in India with the launch of S5230 Star.

Both are international best sellers, which sold more than one million units. Samsung S5230 Star and LG cookie looks almost same, both have 3.0 inch touch screens same resolutions. LG Cookie doesn't offer 3G in any models. However, if Samsung has another model Samsung Star S5603 that has 3G and extended inbuilt memory up to 80MB.
LG cookie KP500 Samsung S5230 Star
LG Cookie and SamSung star comparison
Specification              Samsung S5230 Star                                                          LG cookie KP500
Camera                    3.15 mega pixel fixed focus                                         3.15 mega pixel fixed focus
(smile detection)
video at QVGA@15fps                                              video at QVGA@12fps
Memory                  50MB expandable upto 8GB                                   50MB expandable upto 16GB
L*B*T                       104 x 53 x 11.9 mm                                                 106.5 x 55.4 x 11.9 mm
Weight                        93.5 g                                                                                    89 g
Music Player              H.263/H.264/MPEG4 video support                                     MP4
Battery                       Li-Ion 1000 mAh up-to 10 hours                                 Li-Ion 900 mAh up-to 3.5 hours
3.0 inch screen, Bluetooth with A2DP, touch screen, FM Radio, Web browser, Java applications, Document viewer, EDGE, GPRS and other features are common in LG Cookie and SamSung S5603 Star.
LG cookie and SamSung star  India price comparison :
Samsung S5230 Star:  9,400, Samsung Star S5603 3G :12,000.
LG cookie KP500:     9,399
So this comparison reveals that Samsung Star in better than LG cookie KP500. 3G users can go for upper model of Star, that also offers good internal memory.
Update: LG and Samsung launched several new Star and Cookie models in India. All mobile phones are listed with latest price in our LG and Samsung section. You can also make side by side comparison of the features using our web application here.