Some low-end Nokia and Samsung handsets are equipped with a LED torch light. This is a really useful for some people. Those who don't have a torch hardware can also get this working using a software. Mobile Flash torch light applications turn the camera LED Flash into a torch light.
Flash torch for mobile.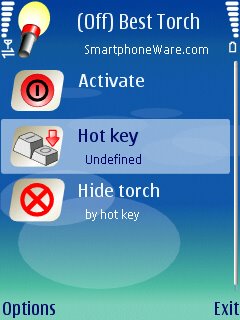 Download Mobile Flash Torch here.
This application (Best Torch 1.0) is developed smartphoneware.  Its operation is pretty simple to learn. Just open the software after installation and click on the activate button. Now you will see your camera flash light turned ON similar to a torch. You can also set a hotkey to get quick access the torch functionality. Note: keeping the flash On will reduce your mobile battery life and performance of the camera unit.