Few days back we covered a mobile TV application for Symbian mobile devices . It was used to access some predefined mobile TV streams played trough internet . Here is another similar application which can access live internet radio streams on Symbian ,Palm, Windows mobile and Blackberry phones . Mundu ,this free mobile internet radio software can play thousands of internet radio stations in almost all mobile phone platforms  . I tested numerous mobile internet radio applications including Nokia internet radio . But all of them are limited to some mobile platforms or they don't have enough number of radio stations . If you have a faster and unlimited mobile internet plan , I strongly recommend you to have Mundu mobile internet radio in your phone .Slow GPRS users can also use mundu internet radio , but will sometimes gives an interrupted playback for some radio stations .
Mundu free mobile internet radio :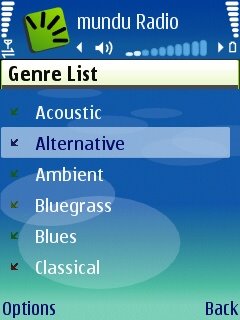 Register here before start using Mundu mobile internet radio. You can mange your radio stations play lists in Mundu online account . Radio playback depends upon the availability , quality and speed of the internet connection .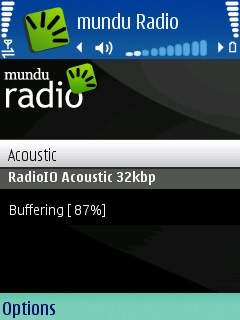 You can select the radio stations according to your type of internet connection . Digital MP3 radio stations are also available ,but you need a mobile internet connection upto 128 kbps   Mundu is an Indian company , so we can enjoy Indian internet radio stations like never before.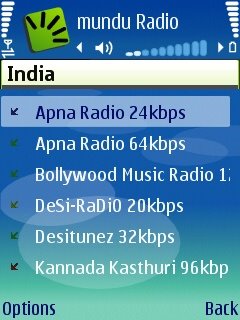 Mundu mobile internet radio supported Nokia devices :
Nokia E63,E71,E90,E51,E65,E61i,E66,E61,E60,E62,E70,N95,E50,N95 8GB,N82,N73,N78,N77,N79,N85,N93,N93i,N96,N71,N75,N76,N80,N80i,N81,N818GB,N91,N92,5800 XpressMusic,c6120 Classic,c6110 Navigator,6121 Classic,c6210 Navigator,6220 Classic,6290,5320 XpressMusic,5500 Sport,5700 XpressMusic,3250,6124 Classic,6650,6708
Mundu mobile radio supported Sonyericsson devices:
Sonyericsson W960i,G700,G900,M600i,P1i,P990i,W950i,P800,P900,P910
Download Mundu internet radio Nokia
Download mobile radio Windows mobile .
Download Mundu mobile internet radio streaming software for Blackberry .
Download Mundu mobile internet radio Palm .