Few months back we reviewed mobile security and anti-theft softwares like Kaspersky and Advanced device locks ,which can be used to detect/track lost mobile phones and remotely perform different actions using SMS . With the launch of s60 V5 touch devices like 5800 and N97 , Nokia has developed a bunch of freeware alternatives for those costly apps. Wavesecure is one of them intended for protecting Nokia smartphones from theft and accidental loss. It can also backup SMS ,contacts ,call logs etc . for future use . and other Download Nokia Wavesecure mobile tracking and anti-theft software .
Nokia Wavesecure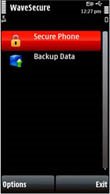 Nokia WaveSecure features:
Backup SMS,MMS ,call logs and other important documents .
Transfer backups to a new phone in which WaveSecure has already installed .
Track and detect stolen phone via buddy SMS or internet.
Use anti-theft to lock phones by remote SMS.
Erase data from stolen device .
Completely free .
Supported by Nokia 5800 XpressMusic and Nokia 97 .
Mobile tracking uses a pre-defined number(buddy no ) to sent SMS in case there is a change in SIM .
Download Nokia WaveSecure mobile tracking,anti-theft and backup software.