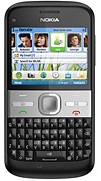 Nokia today announced Nokia E5, the latest Eseries smartphone after their adoption of the new naming convention. The Nokia E5 is a Symbian S60 V3 mobile phone with QWERTY keypad and a particular Eseries design. The 5MP camera, OS and some other specifications Nokia E5 looks almost similar to E72, and Nokia E63 to some extent.  However, the new device gives more importance social networking and messaging. Nokia says that E5 is suited for professionals who are looking for a phone with business and social connectivity features. Nokia E5 is low price alternative to E72 and other recent Eseries devices. Being a business centric phone, Nokia E5 gives importance to corporate Email and connectivity.
Nokia E5 photos:
Nokia E5 specification and review:
Nokia E5 is a quad-band GSM and tri-band 3G smartphone that supports all most all mobile networks in the world.  Nokia Ovi maps and integrated A-GPS provides lifetime free navigation.  The S60 V3 platform of Nokia E5, has several thousand business productivity and multimedia applications in the Ovi sore.  It has inbuilt 256 internal memory and support for up to 32Gb using card slot.
Nokia E5 comes with inbuilt support for multi-network instant messing and multi-inbox email, making use of the new Nokia messaging. Popular instant messaging applications Google Talk, Windows Live Messenger, Yahoo! Messenger and Email service like Gmail, Yahoo mail, Windows Live Hotmail and Ovi mail are supported.  Nokia E5 also includes support for business mails and corporate communications sent using Microsoft Exchange and IBM Lotus NotesTraveler. Nokia E5 provide better security for important communications and data with device lock, memory card encryption, mobile VPN client and Open Mobile Alliance DM client for lock and wipe and password enforcement. The Remote SMS lock enables users to lock their phone in case of emergency using special SMS text.
As you can see from photos, Nokia E5 has a  QVGA(320*240)  LCD screen measuring only 2.4 inches. However, Nokia has managed to include one click access to email setup, address book, contacts and menu in E5 home screen.  Users can add their favorite connect in home screen of E5 with photos. The contacts in phone book can sync with Facebook to get latest status updates of friends.  Apart from this, Nokia E5 includes a fixed focus 5MP camera with LED flash. Basic image editing tools, photo uploading using Ovi share and Flickr are features of this unit.
Other features of Nokia E5 includes Bluetooth with A2Dp, WLAN, Micro USB connector, 3.5 mm headphone jack, full web browser, music player etc.
Nokia E5 package includes:
Nokia E5-00 business smartphone, Nokia Battery BL-4D 1200 mAh, charger, connectivity cable, stereo headset and 2Gb MicroSD card.
Nokia E5 price and launch date:
Nokia will  launch Nokia E5 in the third quarter of 2010. The suggested market price of Nokia E5 is in Europe is Euro 180, which one conversion to rupees is around 10800 INR in India.