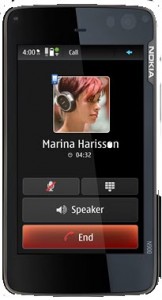 Nokia Today announced Nokia N900 internet tablet based on Maemo 5 Linux platform .Maemo 5 Linux is new generation mobile touch platform with speed and facilities which for the first time going to get introduced in Nokia N900 . We earlier covered the expected specifications and price of the New Nokia N900 internet tablet . But the code name Rover disappeared on official Nokia press release . This phone is going to be the next flagship model of Nokia ,after N97 . Like N97 , Nokia N900 internet tablet is specially built device for accessing internet and allied services on mobile phones . It will have a massive 3.5 touch screen ,32GB inbuilt memory ,GPS,WLAN and powerful 5 mega pixel camera with Carl Zeiss optics Tessar lens and slide out QWERTY keyboard . Maemo 5 enables Nokia N900 to provide internet experience on Firefox powered mobile browsers  .Nokia N900 along with Nokia 5530 ,5230 and N97 Mini will be the main attraction at upcoming Nokia world on September 2009 .
Nokia N900 internet tablet official photos :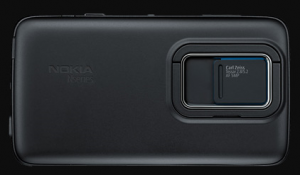 As you can see in the photos , Nokia N900 will have a qwerty keyboard and kickstand just like in N97 . There is 3.5 inch touch screen ,5 mega pixel camera and 32B inbuilt memory . The the difference is revolutionary new Maemo 5 Linux OS .Traditional the Nokia internet tablet were using of Maemo Linux OS . As per Nokia , the Maemo 5 Linux platform has the capability to deliver computer like speed and performance into mobile computing . N900 will be internally powered by TI OMAP 3430: ARM Cortex-A8 600 MHz processor with PowerVR SGX with OpenGL ES 2.0 for graphics support . This processors along with 1GB additional application memory will provide PC like multi-tasking capability to N900 . The large 3.5 inch wide high resolution WVGA touch screen will provide great internet experience on Mozilla based Maemo web browser with Flash and JavaScript support .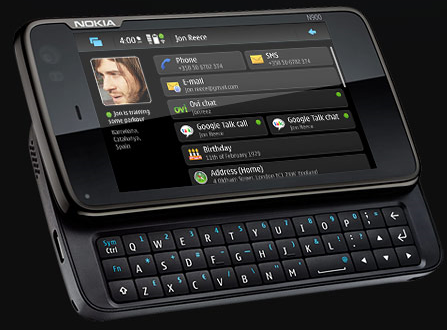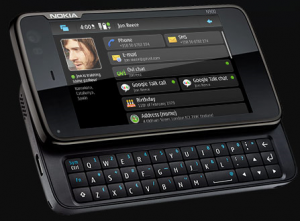 Nokia N900 connectivity features include Bluetooth with A2DP ,WLAN and 10/2 HSPA and Class 32 GPRS .There will be Integrated assisted GPS system which uses installed Nokia Ovi maps . N900 camera is just another Nokia 5 mega pixel autofocus camera with Carl Zeiss optics . Don't think that there will be a shortage of applications if you go for Maemo 5 Linux . Nokia N900 internet tablet comes with inbuilt applications like PDF reader ,File manager ,RSS reader ,image editor ,Nokia messaging for email and IM ,photo editor ,calender ,maps and support for downloadable games and widgets .
Nokia N900 technical specs:
3.5 inch touch-sensitive widescreen display .
Integrated GPS with Nokia Ovi maps support .
N900 's 5 megapixel autofocus camera  will have  LED flash with 3* digital zoom  . Images at (2584 × 1938 pixels) ( Video recording at up to 848 × 480 pixels (WVGA) and up to 25fps .
Processors :TI OMAP 3430: ARM Cortex-A8 600 MHz, PowerVR SGX with OpenGL ES 2.0 support .
Memory :Up to 1GB of application memory (256 MB RAM, 768 MB virtual memory)
32 GB internal storage ( expandable upto 45 GB via card slot )
BL-5J 1320mAh battery.
TV out ,WiFi ,Bluetooth ,3G ,EDGE
Color :Only black
Maemo media player plays all popular video and audio files .
FM transmitter and Receiver .
Nokia N900 box will contain :
Nokia N900,Nokia Battery (BL-5J),Nokia High Efficiency Charger (AC-10),Nokia Stereo Headset (WH-205),Video out cable (CA-75U),Nokia charger adaptor (CA-146C),Cleaning cloth
Nokia N900 price and launch dates:
Nokia N900 will be officially released  at Nokia world on  September 2009 . It will be available all over the world from October for a price of 500 Euro . So in India the price of N900 would be around the launch price N97 ,that is 34000 INR.