Gone are days when the internet was available only for high priced phones. Opera mini has revolutionized the mobile internet experience on low end phones even in phones that are having WAP facility. Opera mini can deliver full PC like web pages in all supported mobile phones with the best possible speed. The only requirement is a small amount of internal memory for Java software installation. The latest release of Opera mini is Opera mini 4.2, and you can download it from here.
Internet browsing on Opera mini 4.2 is upto10 times faster than the default mobile web browser. Opera mini gets this speed by compression of the data packets before they are sent to the mobile phones. These web pages are at first downloaded to Opera servers in US and Norway and then after compression, to Opera mini mobile interface. This techniques make the web faster and reduce the cost of data charges.
New features in Opera mini 4.2 :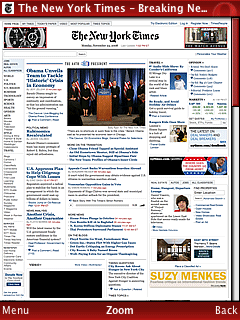 1. Improved browsing speed after the introduction of new data compression servers in US.
2. Opera mini 4.2 adds the support for choosing themes.
3. Opera team currently on work with Opera mini to make it compatible with video portals like YouTube. Opera mini 4.2 has the ability to search and videos through m.youtube.com in a limited number of handsets.
4. Opera mini 4.2 supports the upload and download of files from the internet.
5. The opera link feature helps to sync Opera mini 4.2 with desktop Opera browser for the transfer of bookmarks, speed dial and favorites.
6. Opera mini 4.2 can save web pages for offline view. Save feature loads the pages faster for the next time.
7. Opera mini 4.2 can render web pages in default and landscape mode.
8. Opera mini 4.2 has a virtual mouse like a pointer that lets you to browse through mobile web pages just like in a PC.
Download Opera mini 4.2 mobile web browser.
Update : Opera mobile 5.0 announced .
Update : Opera announced  Opera mobile 10 beta browser for Symbian S60 V5 touch devices.