Orkut , the most popular social networking site of Google has launched a Java mobile application for their portal which supports all most all handset models. Orkut mobile software is available for iPhone, Android, Windows mobile, Blackberry, Nokia Symbian , Java Samsung LG and Sony Ericsson phones. Orkut already have a mobile version of their web portal for easy access from handsets. Here the features are limited to make it accessible from all mobile phones. New Orkut mobile application is extremely user friendly and can be even used to upload and share photos from installed mobile devices. Download Orkut mobile software.

Orkut mobile software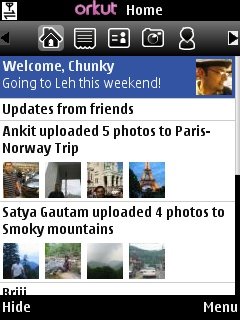 As you an see in the above screenshot, Orkut mobile application is very user friendly. On load  the application shows profile picture of the user with latest updates from friends. Second menu from the grid shows users Orkut scrap book. Third menu list the contacts from phone address book and Orkut contacts. Calls and SMS can be made directly from application interface.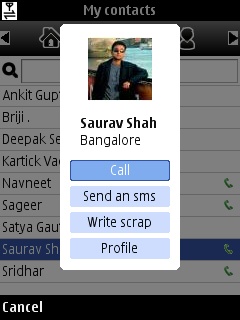 Fourth option lets users to catch photos directly from mobile camera and upload them to their Orkut photo album.
Orkut mobile software can perform the following actions .
Search Orkut friends .
Read and Replay to scraps
Accept friends request.
Update Orkut status.
Share or upload photos to Orkut album (in supported phones)
Call or SMS Orkut friends directly from application.
Orkut mobile application is currently in beta stage and at this stage you can expect some issues or crashes when performing multitasking. So keep some memory space unused while using Orkut mobile .
Orkut mobile software supported devices :
Orkut mobile is a Java software. So it will work with all Nokia (including N97 and 5800 Xpress music), Sony Ericsson, LG, Samsung phones with Java support and necessary memory requirements .
Download Orkut mobile application from your device  here .
(direct rapidshare link)
Subscribe to our newsletter for future versions of this program.