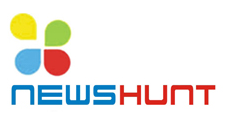 Last year we reviewed IndiSMS, an application for sending and receiving SMS in local Indian languages. ETERNO INFOTECH, the creators IndiSMS has launched another useful mobile software for Indian users. The app called NewsHunt can deliver live local news updates from all online Indian newspapers on installed mobile devices. The application has a very user friendly design that uses can configure to select and set their favorite newspaper. NewsHunt then connects to the corresponding news server and provide real-time news updates. So that you don't  need to open application interface for latest updates. NewsHunt is complete free to download and use. The only requirement is to have unlimited or GPRS plan.
NewsHunt mobile newspaper application:
NewsHunt currently supports the following Indian newspapers and languages on mobile phones:
Malayala Manorama: Malayalam
Mathrubhumi : "
Deepika :
Indian Express :English
The New Indian Express
Deccan Herald
Dainik Jagran :Hindi
Dainik Bhaskar
Sakal
Punjab Kesari
Dina Malar :Tamil
Eenadu :Telugu
Andhara Prabha
Prajavani :Kannada
Kannada Prabha
Loksatta :Marathi
NewsHunt supports Nokia, Samsung, HTC, Sony Ericsson, LG and other mobile handsets. Native OS support is available for Symbian Nokia phones, Blackberry and iPhone. Others can install Java based version.
Download NewsHunt.
Download NewsHunt iPhone app from iTunes Store.
or
Send SMS hunt to 57333 to get download link.
After installation open NewsHunt application from menu. NewsHunt now list a set of newspapers shown above.
Select the required newspaper and configure its tabs in the next step. Selected newspaper can be changed at any time. There is an option enable or disable images based on requirements.
Another useful feature in NewsHunt is that users can read sliding headlines on their home screen. This facility, as shown above let users to read updates without keeping the application open.