Symtorrent means Symbian torrent. As the name indicates it torrent client for mobile phones with Symbian OS. Symtorrent is just like desktop torrent clients like the BitTorrent, uTorrent etc. We can select torrents from mobile interface, and it will list the available number of peers and connections. Here you can download the latest version of Symtorrent, Symtorrent 1.3.
Symtorrent project is an open source project maintained by Budapest University of Technology. If you are a Symbian developer, you can get Symtorrent 1.3 source files and build your custom application.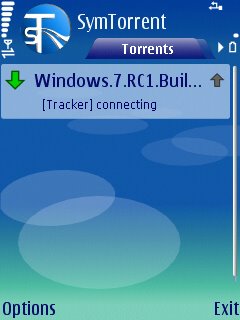 Symtorrent 1.3 mobile torrent tracker and download client.
Though there are no advanced features like that of the desktop torrent clients, Symtorrent 1.3 is the most efficient torrent client for Symbian mobile phones. Symtorrent 1.3 works over, 3G, GPRS, EDGE and WiFi.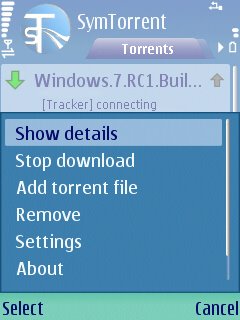 Download Symtorrent mobile torrent client here (works with Symbian S60V3 and S60V2 handsets)
First of all, you need to download and save your torrent file on the local mobile memory card /transfer torrent from PC. Click on Add torrent file and start download. Symtorrent 1.3 will now connect to all available peers, and start download the torrent in pieces. It might take some time to identify the peers and to start download. Patience is a virtue my dear friend.