We earlier informed you about the launch of  Tata Docomo GSM services in south India. The prepaid tariff uncovered by Tata Docomo is one of the best consumers friendly plan in Indian telecom industry. Tata Docomo prepaid plans are based on one second billing. Calls and other value added services like chat, Voice SMS, caller tune search, GPRS, etc. has one second billing. I think they, the Tata sons and NTT Docomo knew the market pulse, and they have chosen the right mode of tariff plans to attract all kinds of customers. One second billing means, you will be charged one paisa for one second of talk and not the tariff for one minute. Furthermore, here you don't need an extra addon pack to reduce call charge. Another offer on Tata Docomo prepaid plan is the life time validity of SIM card until their license expiry on 2021. Missed call alerts service, for which other telecom providers charge 30RS per month is free on Tata Docomo prepaid. All these amazing offers are available on a 50INR (1$) SIM card. We strongly recommend you to get a Tata Docomo prepaid SIM card.

Tata Docomo is the first telecom provider to launch One second billing plans and other innovative concepts in India. They have launched a number of mobile phones and promotional offers that would attract costumers of all types. Several companies now have per second plans. Thanks to Docomo for changing Indian telecom Industry. So they are another example for how competition benefits customers.
Download Tata Docomo ringtone.
Update: Tata Docomo launched diet SMS plan:
Tata Docomo launched a diet SMS tariff plan, which will cost you one paisa per one character in SMS for up to a maximum of 15 characters. There is no charge for the spaces made in between characters. This is the first SMS plan in India that uses the number of characters in a SMS to calculate charges. What we have to say is nothing but, Do the New.
You can enable Tata Docomo Diet SMS plans  using three options:
1. Download Diet SMS application from Tata Docomo: Browse to this URL from you Tata Docomo mobile and download the mobile application using WAP services.
2. Use your normal SMS application to send Tata Docomo diet SMS: For this send the formatted text message to 52208  and in the text box type the target mobile number followed by a space and then your message.
3.Open Dive in the menu on your mobile and find out the diet SMS option.
Note: This diet SMS plan is applicable to phones in Tata Docomo network.
Update: Tata Docomo launched Nokia bundle offer:
Tata Docomo today launched bundle offer with Docomo SIM card+ any of the 5 Nokia GSM phones.  Phones available with Tata Docomo bundle Nokia 5030, Nokia 2330 classic, 7210 supernova, Nokia 1209 silver and Nokia 1661.
Tata Docomo+ Nokia bundle offer benefits:
Free Docomo SIM card with life time validity.
One paisa/sec all over India in any network.
Free 100 SMS per day for 6 months. ( First SMS charged).
50 free calls per month. (For calls to Tata Indicom, Virgin mobile and Tata Docomo).
Update: Tata Docomo bundle offer is now available with Samsung Guru 1080, 1210, 1390 and Guru 1160.
Tata Docomo launched HTC HD2  in India. The device is  available exclusively at Tata Docomo Dive-In stores all over  India.
Update: Tata Docomo launched one of the best roaming plans in India. All incoming calls will be charged at 1 p/sec and there is no charge for incoming SMS.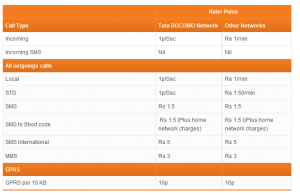 Tata Docomo GPRS plans:
Tata Docomo announced new GPRS plans.  Customers needs to send GPRS to 121 to activate the service. The normal charge of browsing is 50p/1MB, which can be extended using any of the plans shown below.
Tata Docomo BuddyNet plan:
Tata Docomo today announced very attractive plan for friends in Tata Docomo network. Under this plan called BuddyNet, friends or other members can talk at 1/6sec for local and 1p/2sec for STD calls. BuddyNet members can exchange or gift their talk time to others in same network.  Another feature of BuddyNet is free browsing social networking sites. BuddyNet members can use Twitter, LINKEDIN, Facebook, Orkut and chat on Nimbuzz mobile messenger for free.
Update on March: Tata Docomo announced daily plans.
Tata Docomo announced new daily plans for their prepaid customers. Users can dial *141# from their Tata Docomo handset to  get refreshingly new plans each day.
Bookmark this page to get more tariff plan updates from Tata Docomo .
Update : Airtel announced Freedom Per second tariff plans.
Update : Reliance announced per second plans as a part of Simply Reliance promotion .
Update: Etisalat launched mobile service under the brand name Cheers mobile in India.