Videocon, one of the oldest home appliances brand in India announced their entry into mobile phone market. They launched a set of mobile devices enabled with touch, dual SIM, multimedia, music and camera. Videocon brand had a complete makeover in recent days. Their expertise in electronic appliances helped them to deliver professionally designed mobile phones with plenty of features and moderate price. Eight of the first ten video mobile phones are dual SIM. Airfone, Karbon, Maxx mobile and now Videocon contribute to dual SIM mobile segment in India. The Videocon brand name would help them to make the most out from the fastest growing mobile market in the world.

Videocon V2950 Touch price and specifications :
Videocon V2950 is Windows mobile 6.1 enabled touch handset. V2950 is currently tops the Videocon mobile range. This single SIM phone has very fast 624MHz microprocessor. Specifications include large 3.2-inch TFT touch screen display, GPS, Wi-Fi, 8GB expandable memory, 2 batteries, GPRS, EDGE, Bluetooth with A2DP and 3.2 MP Autofocus camera.
Price: 18995 INR
Videocon V1750 Touch mobile price and specifications:
Dual SIM touch phone focuses potential customers in entry-level touch segment. Currently we have best sellers Samsung Star, LG Cookie and Samsung Corby in this series. Almost the same features in these phones are available in Videocon V1750 with additional dual SIM facility. Its specs includes 3.2 inch TFT touch screen, EDGE,GPRS, 3.2 mega pixel camera with autofocus, accelerometer sensor ,expandable memory up to 8GB, Bluetooth with A2DP, Bass enhancer , Smart Divert , Mobile tracker, FM, music and video player.
Price :9795 INR.
Other Videocon mobile devices: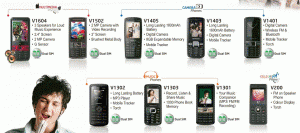 As you can see in the above image, almost all Videocon phones come with plenty of features. Apart from Dual SIM, some of them include 1800mAh battery that stays long. Price of these phone are given below (from top left to bottom)
Videocon V1604 and V1502 (multimedia): Costs 5595 and 4995 INR.
Videocon V1405, V1403, V1401 (Camera): Costs 4060, 3695 and 3450 INR.
Videocon V1302, V1303, V1301 (Music): Costs 3095,2750 and 2895 INR.
Videocon V200: Basic color phone with FM radio, torch and color display costs 1695 INR. The very special feature is FM recording that is not even available in high profile Nokia phones.
Videocon managed to keep the prices as low as possible. Success ultimately depends upon quality of the product, feedback, service facilities and of course the advertising campaign.
Update: Videocon launched GSM mobile services in India. More details and tariff plans are available here.