Microsoft chief  Steve Ballmer announced the features of upcoming Windows mobile 7 OS at MWC Barcelona. The new OS platform will be known as Windows Phone 7 Series . Though started development much earlier, Microsoft Windows mobile hasn't had major changes in recent years. The very recently announced Windows mobile 6.5 was also unimpressive in features. Android, Apple iOS , Symbian, Maemo etc. took this as advantage and implemented the latest technologies for mobile devices. That resulted in more and more applications in these platforms. And naturally people chose those phones than Windows mobile. The new Windows Phone 7 Series platform has been designed considering the requirements of modern life.
Windows 7 phone series UI: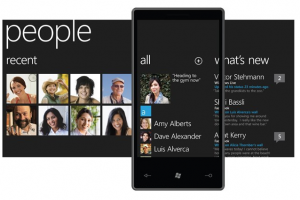 Microsoft says that Windows mobile 7 is designed for Life in Motion. It would have inbuilt integration to Facebook, Twitter, Windows Live and some other social networking and instant messaging applications. Updating status in multiple social networking sites, uploading images or video from storage, sharing links and all other social networking are among features  supported. The web browser in new Windows phone 7 series mobile would have multi-touch, pinch and zoom etc.  The support for capacitive touch screens, modern multi-media formats and web browsing standards will be available  default.
The Windows phone 7 series comes with integration to existing Microsoft brands/service like Xbox and Zune. The phone displayed at MWC at has a design similar to Zune HD player. The fonts, design, default color scheme, and all resembles Zune to some extent.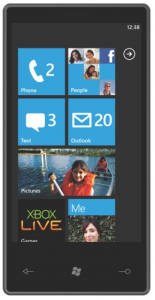 Despite all these improvements, the disappointing fact is that Microsoft is planning to impose some restrictions on phones using Windows phone 7 series. Very surprising thing  is that Windows phone 7 series may not support multi-tasking. They would block firmware customization that is normally used by phone manufactures  to implement new UI over Windows mobile phones. Some of those UI like HTC TouchFLO 3D, Samsung TouchWiz etc. are much popular. Also the applications in Windows phone 7 series are to be installed from Windows Market place.  So it seems that Microsoft is following the path of Apple that they follow in the case of iPhone. In case of iPhone the fact that attract customers is the number of applications and the browsing and navigation features it provides.  Intervening in user experience may not be good at this point for Windows mobile as it needs to develop more in certain aspects. Users may not be ready to upgrade Windows mobile if such restrictions are at extreme. They would either continue using Windows mobile 6.5.3 or move to open source platforms like Symbian and Android.
The first set of devices with Windows 7 series platform would be available by the end of this year.