YMTiny is a Free Yahoo messenger client for low end Java supported mobile phones. If you have a smartphone falling in Nseries/Eseries category, you can either use Talkonut or Nimbuzz, which can access Yahoo messenger/Skype/MSN all from a single application. Though YMTiny is a simple application it supports almost all functions needed for a basic Yahoo chat application.
Yahoo messenger Tiny (YMTiny) features: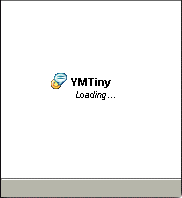 Send and receive messages from friends on Yahoo messenger .
Minimize Messenger and run in the background.
Chat Notifications with sound and Vibration.
Use Yahoo smileys in messages.
Very less internet bandwidth usage.
Less mobile memory consumption.
Download YMTiny here.
This application seems to be the best Yahoo Messenger client for Java supported and low profile Nokia, LG, Samsung, Sony Ericsson handsets. Test it and leave your thoughts in the comment section.