Few months back we covered the official Youtube mobile player for Symbian phones . Unlike mobitubia ,official Youtube player plays Youtube FLV videos using the default streaming media layer in mobile devices .Installing mobile device should have streaming media player like Real player . The latest available version of official Youtube mobile player is 2.0.9 .
Youtube mobile player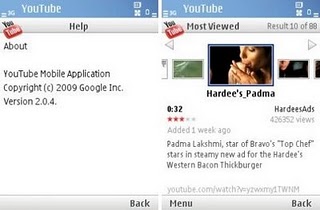 Youtube mobile is expected to support the following Nokia phones,
Nokia E63,E71,E90,E51,E65,E61i,E66,E61,E60,E62,E70,N95,E50,N95 8GB,N82,N73,N78,N77,N79,N85,N93,N93i,N96,N71,N75,N76,N80,N80i,N81,N818GB,N91,N92,5800 XpressMusic,c6120 Classic,c6110 Navigator,6121 Classic,c6210 Navigator,6220 Classic,6290,5320 XpressMusic,5500 Sport,5700 XpressMusic,3250,6124 Classic,6650,6708
Youtube mobile supported Sonyericsson devices .
Sonyericsson W960i,G700,G900,M600i,P1i,P990i,W950i,P800,P900,P910
Download Youtube mobile 2.09 and play Youtube FLV videos in Nokia.