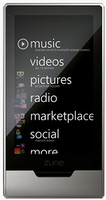 Zune is Microsoft's answer to Apple iPod ,Creative Zen ,SanDisk Sansa , Philips Go gear And Sony Walkman portable music players .Microsoft initially launched Zen music players in 2006 with Zune 30 GB HDD model ,which later followed by Zune 4 ,16 80 HDD and 120 HDD models . All current Zune models are powered by Windows CE based Zune software for ARM CPU architecture.   The player includes Wi-Fi, FM radio ,image viewer and Video player in all most all models .
The latest and upcoming model in Zune family is Zune HD ,which is already making rumors on its specifications ,price and availability . Zune HD is reportedly using NVIDIA Tegra ,a derivation of ARM CPU which capable of playing HD videos in mobile devices . The special about NVIDIA Tegra is that its an all in chip which includes GPU ,CPU and basic memory in one package .Zune HD ,being the first phone to be with NVIDIA Tegra includes excellent graphics and multimedia facilities . It is the first Zune model to include a Multi-Touchscreen and size more than 3 inch .

Zune HD portable music player :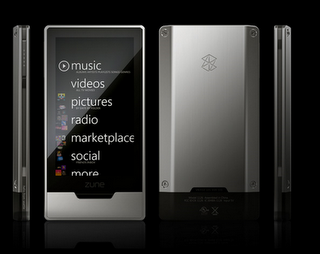 Microsoft officially confirmed the availability of Zune HD in May 2009 and revealed some specifications and services planned with Zune HD . The existing Zune market place subscription allows users to download music ,videos and TV shows to Zune HD device . There are rumors that the device is capable of running for a continues 25 days with a single battery charge . But there is no confirmation on this features .
Zune HD specification :
Zune HD will have 3.3 inch OLED display capacitive touch screen with 480×272 16:9 resolution).The HD video can be taken out via AV Dock to external HDTV or compatible device .
Flash memory 16GB and 32 GB models .
Built-in accelerometer for landscape mode and screen rotation
HD radio tuner (receives FM only).
Wi-Fi connectivity for accessing Zune market place and webpages using internet explorer 6 mobile .
Unicode Support .
Zune HD will be available in Black and Silver-Bronze colors .
Zune HD price and launch date :
Microsoft has confirmed the official launch date of Zune HD as  September 8  2009 . The expected price for 16 GB and 32 GB Zune HD model will be 199$ and 299$ receptively . So India ,when converting the price will be around 10000-15000 INR .